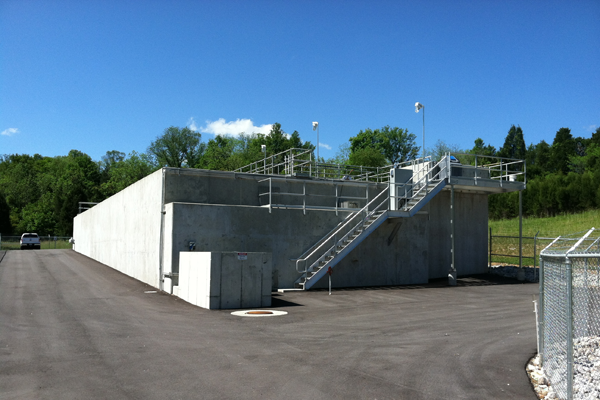 The Georgetown WWTP project was a $3.5M federal stimulus project (ARRA Funds) for the Town of Georgetown, IN. This project included the design and construction of the WWTP along with the necessary improvements to the Town's lift stations and force main to convey the flow to the new WWTP.
This project was broken into two distinct and separate design contracts: Water Reclamation Facility Project (WRF) and the Infrastructure Improvements Project. The WRF Project was a design/build project that consisted of the design and construction of a 350,000 gpd WRF. Members of our staff were responsible for all aspects of design of the WRF. The WRF provides secondary treatment using the extended aeration mode of the activated sludge process. Our efforts also included securing the necessary IDEM permit for construction as well as oversight during construction and working with the Contractor to expedite the project.
The Infrastructure Improvements Project included the design of two new lift stations to replace the Town's East and West Lift Stations, 3,500 ft of force main to convey flow to the WWTP, 2,500 ft of water line design, railroad bores, stream crossings, and approximately 800 ft of roadway design. This project required that the existing East and West Lift Stations remain in service throughout the duration of construction to avoid any disruptions to existing sanitary sewer service for the Town's approximately 1,300 customers.
Heritage provided construction administration duties on this project acting as the Town's liaison and technical advisor throughout the duration of the project. Additionally, Heritage was responsible for all ARRA reporting during the course of the project.
Project Features:
350,000 WRF Design
Forcemain Design
Pump Station Design
ARRA Stimulus Funding
Construction Administration
Project Details:
Project Location: Georgetown, Indiana
Project Contact: Robert Woosley, David Eberenz, and Matthew Robinson