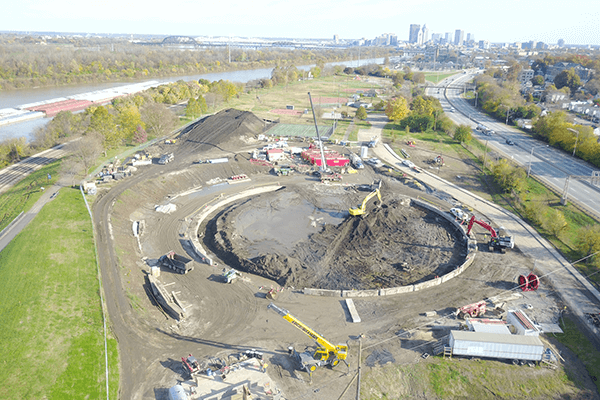 The Portland CSO Basin is part of the Metropolitan Sewer District's Combined Sewer System Long Term Control Plan established as part of the Innovative Overflow Abatement Program (IOAP). The basin consists of 1.8 MG of in-line storage in conjunction with 6.7 MG of underground storage, 600 LF of 96" Interceptor relocation, two diversion structures, a fine bar screen, and 14.2 MGD grinder improvements. Per the IOAP, overflows at MSD's CSO No. 19 shall be limited to eight during the typical year by the end of 2019. This project included the analysis and design of the proposed basin, pump station, and conveyance system improvements.
A site analysis was completed for twelve potential basin locations. Utilizing the Criterium Decision Plus 3.0 (CDP) software, our office developed a set of criteria used to fully evaluate each of the twelve sites. The CDP software was chosen to allow an unbiased review of each site. The analysis of the sites included meetings with Metro Works, Metro Parks, Neighborhood Groups, MSD Operations and Maintenance Division, and Cultural and Historical groups. Input from each group was used to narrow the list of twelve sites down to the ultimate site selected.
Our work includes providing full-time resident construction services as well as customary construction administration support services (e.g. shop drawing reviews, daily inspection reports, progress meetings, pay application reviews, etc.).
Project Features:
Design of 6.9 MG underground CSO Basin
Design of 6.9 MG pump station
Design of 14.2 MGD grinder improvements
Site improvement design
Public amenity improvement design
Public meeting assistance
Resident Construction Inspection
Construction administration support
Project Details:
Project Location: Louisville, Kentucky
Project Contact: Robert Woosley